Happy Monday! Hope you all had a great weekend! Mine was spent working on SIS. The good news? It is in the process of being quilted!! WOOHOO! Let me tell you, putting that back together was a test of my math skills. . . a test I failed on an occasion or maybe two ;) Here is a picture of the back:
Looks easy enough ay? . . . :)
I wondered at times over the past several days if I should just go get enough wide backing for two quilts and make this a top and not a back! :) I think part of the reason I found putting this together such a challenge was that I had absolutely NO plan when I started piecing - just had the yardage hung on the wall with the blocks placed where they were intended to go. I also wanted the blocks to line up perfectly with the blocks on the front. . . if you look close you can see the top underneath - I got pretty darn close :) In the second row (from the bottom, not sure why but I started from the bottom and worked my way up), I was very befuddled on what width to cut the tan strip. For the next row, I had to piece the white sashing for the tops of the outside blocks. . . I did the math 100 times. . . pulled out the calculator, measured, remeasured, measured again, walked away and thought about it and then went through the aforementioned process again. . . and STILL got it wrong! LOL And of course I did not cut it too long - I cut it too short!!! by a half inch!! Seriously?? Yup, seriously. I wanted to cry, or start drinking! It was rather early in the morning so instead I cut a half inch strip and sewed that sucker onto the too short strip (I was working with barely enough fabric as it was I did not have wiggle room for mistakes like this!!) and kept on sewing! Admittedly the rest of the process went pretty smoothly, it just seemed to be at a turtle's pace! FINALLY I had it finished yesterday afternoon and immediately spread it out for basting. I decided to spray baste the entire quilt, this is a first for me. I have spray basted portions of tops, spray basted when I did the QAYG quilt and spray based and used pins but had never done a quilt this size (72" x 85") with no pins. It went so quick, I may just throw out all of my pins! I'm going to wait to pass final judgement until after it is quilted and I see the finished result. I started quilting last night and so far, so good :) Here is a poorly lit picture of the quilt basted and my supervisor - he is making sure everything is just so :)
"What? No cussing? I thought this part of the process always required cussing!!"
I am now off to hopefully put a huge dent in the quilting of this baby today. I am going to do some playing on EQ7 for my next quilt. I think I have actually made a decision on what it is going to be! Stay tuned, there will definitely be more on this in the near future :)
Linking up with Anything Goes Mondays over at at Stitch by Stitch. If you are here by way of there, WELCOME! And if you haven't been over, go check out what other peeps are working on and grab some inspiration :)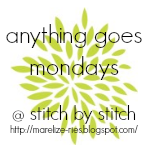 Until next time, keep on quilting!! :)